BRANDON APON NAMED LIBERTY UNIVERSITY FOOTBALL TEAM CAPTAIN
Brandon Apon, who will be a 2013 senior at Liberty University and is a tight end on the football team, has been chosen as one of the Team Captains. He was homeschooled and played for the Crown Knights before signing with Liberty University, located in Lynchburg, Virginia. Here is the link to the announcement:
FORMER NORTH GEORGIA FALCON QB TIM HOWARD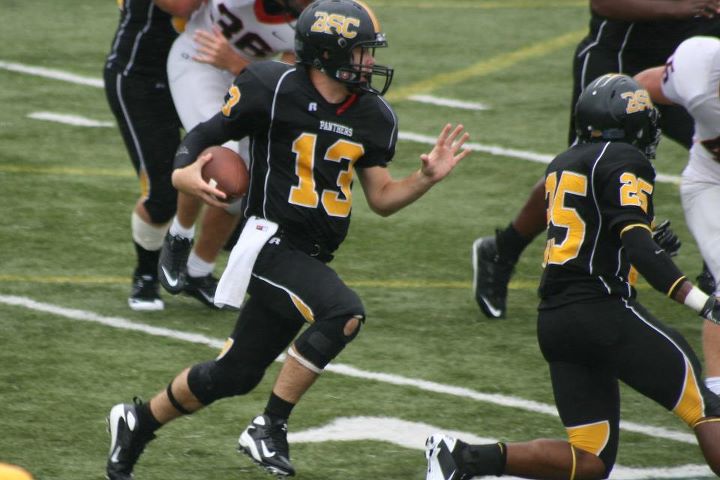 QB Tim Howard #13 above
Former North Georgia Falcon quarterback, Tim Howard, led the Birmingham Southern JV team to 23-20 victory over LaGrange College in his first college game as the starting quarterback on Sunday, Septem ber 4, 2011. BSU runs the Oregon (no huddle) spread.
_____________________________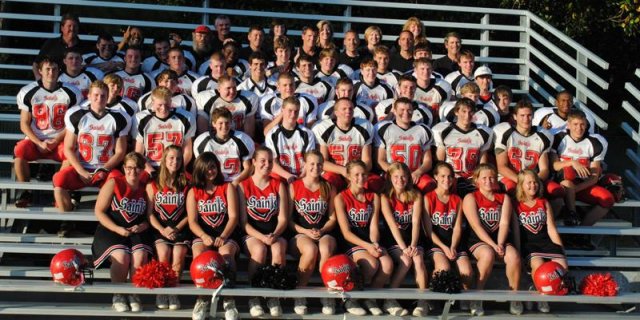 Maryland Christian caps 2010 season with National Championship
Click here to view origina News Article
Written by CJ Malinowski
11/24/10
The homeschooled Saints reigned supreme in the national tournament in Florida.
——————————————————————————–
Not many people know, but Maryland is home to a new national champion: the Maryland Christian Saints football team.
Often, the Baltimore sports community sees the top teams as either being the private schools of the MIAA and IAAM, or the top public schools of the MPSSAA, but hardly ever are the home-schooled teams given a thought. Maryland Christian is looking to put a stop to that.
Going a perfect 11-0 in their battles against the teams of the MIAA, WCAC and Mid-Atlantic Christian Football Conference, the Saints earned a berth to the National Homeschool Football Association's national tournament in Panama City Beach, Fla., where they topped two more national representatives for the 2010 national title.
"I've learned a lot of the years of coaching, and one of the things I've learned is that you can't play to not lose, you have to play to win," Saints' coach Tony DiPaola said. "We go out there and we're throwing the ball when they aren't expecting it, and we surprised both teams.
"We are just aggressive on offense, and our tough defense, it just works out well on both sides of the ball."
The Saints had a tough road to the championship in their first ever invite to the national championship tournament, and knocked-off two- time defending champ Lighthouse Christian (MO), 38-6, and then defeated the previously undefeated North Georgia Falcons (11-1), 35-2, to win the NHFA crown.
Rushing to a 26-0 lead as early as the first quarter of their Thursday semifinal game with Lighthouse Christian, the Saint defense held a strong shutout till the last play of the game for the 38-6 final.
"They ran a similar offense and they are so used to scoring a lot of points, but our defense has been stout all year," DiPaola said explained. "The defense was just excellent. They were bend but don't break, and we had a lot of sacks."
Defense has been a point of pride for the Saints all season, opening the year with three shutouts and allowing just 120 points in 13 games.
Helping lead the defense was junior Will Carlton, the 6-2, 230-pound double-digit sacking machine, and junior teammate Evan Chase, the 6-2, 220-pound middle linebacker whose father played in the NFL.
The Saints only allowed two more points in the national tournament, giving up a holding-penalty safety in their 35-2 win over the Falcons. The Falcons scored 52 points in their semifinal win.
"We can run and pass the ball, so, if a team puts eight in the box, our quarterback can audible at the line, and that really helps us out," DiPaola said of junior quarterback Christian DiPaola, throwing nine touchdowns in the national tournament.
Catching seven of those scoring passes was senior wideout Jed Yousefi, who will be one of just eight seniors leaving the Saints. Yousefi brought in 47 receptions for more than 1,100 yards and 30 touchdowns, while returning punts and interceptions for scores, as well.
"He is one of the impact players we are losing," DiPaola said. "Thirty touchdown receptions this year, second in state last year with 32 touchdowns, he is just explosive. He has moves on top of moves."
Nine Players to All-Tournament Team
The Saints made up nearly half of the tournament's honor roll, placing nine of the 22 players on the list.
Every national tournament holds with it an All-Tournament team, and the Saints players made up nearly half of the 22-man roster.
Along side DiPaola, Yousefi, Carlton and Chase were juniors Johnny Lewis, Caleb Gordon, sophomores Alex Dowling and Austin Lee and senior Brian Wilt.
"These guys are truly Division I and Division II caliber prospects," DiPaola explained, citing Carlton's probable move as a college defensive end, Chase's frame and Christian DiPaola's 6-4, 212-pound body that threw 38 touchdowns to just eight interceptions.
"Chase is 6-2, 220… that's NFL size, and Christian's 38 touchdowns to eight interceptions, that's big-time numbers," adding that Christian threw for more than 2,300 yards in the year.
One player who dominated through the season without making the All-Tournament status was junior Michael James, rushing for 981 yards and 13 touchdowns in 2010.
"I was tearing up when thy announced them," DiPaola said. "The tournament director was just throwing accolades and said how our team was invited to the national championships. He said when he as in high school, he had a coach that said to leave no doubt, and that Maryland Christian left no doubt they were the number on team in the county.
"We are going to try and go down there next year. It is a long ride, that's all I can tell ya," he laughed.
A Conference Title with Payback
Junior Christian DiPaola was a big part of the Saints' offense, throwing from more than 2,300 yards in 2010.
The Saints played three games in seven days to reach national champion status, including their Mid-Atlantic Christian Conference championship game the previous Saturday, topping Central Virginia, 28-20.
"It was a lot on them, but it wasn't as tough on them as I thought it would be. We were able to sub and move players a round, so we didn't wear them out," said DiPaola.
But the blood really boils between Maryland Christian and Central Virginia as the two teams have been knocking heads in back-to-back conference championships.
"The emotion was very high because we beat them in the last regular season and they beat us in the championship," DiPaola said. "This season, we beat them in the regular season and that was their only loss in the conference.
"We came into the championship game and they jumped on top with their single wing offense and took it to us in the first half."
Central Virgina eventually led the game 20-7 in the third quarter, shuting down the Saints' running game and forcing them to take to the air.
No Problem for Christian DiPaola, who threw for 366 yards in the comeback win.
"They were blitzing everybody and actually stopped our running game, so we had to go to the air, and we went to the air big time," DiPaola said. "These guys have a confidence about them, a swagger about them. They know they can go up against anybody in the state and have been playing really well together, and it is like a brother hood. They have each others' backs and they love each other."
Saints versus the MIAA
"The season went very well for us. I guess what really put us on the map was when we went to [Archbishop] Curley and beat them, 30-22," DiPaola said. "It was exciting for the boys, but I was very confident going into the game. I feel like we can hang with anyone in the MIAA."
According to Curley head coach Sean Murphy, who guided his team all the way to the B Conference title game, the Saints are legit.
"Maryland Christian is actually very good. Their kids came into the game like it was the Super Bowl," said Murphy. "They played their butts off and showed tremendous passion and heart. On that day, they were better and deserved the victory. I emailed their staff to congratulate them because it was well deserved."
DiPaola hopes that win and his team's national title will change the way homeschool programs are viewed.
"I don't think people realize how good the homeschooled football teams are now," DiPaola suggested. "I would pit it out there that Central Virginia and the other two teams down [in the national tournament] would win the MIAA B conference, and we would be the middle of the pack or upper ranks of the MIAA A conference.
"Our skilled position players, I would match with anyone in the state."
_____________________________
Louisiana QB Douglas Part of Homeschool Football Movement
(Stevie accepted a scholarship and plays Quarterback at Stephen F Austin University in Nacogdoches, Texas)
In Louisiana and other parts of the country, homeschooled football players and teams are striving for recognition and opportunity.
Friday, August 21, 2009
By: Dave Krider
MaxPreps.com
Stevie Douglas is a diamond in the rough – with the accent on "rough."
Despite playing quarterback for a homeschool football team in Louisiana, the 6-foot-4, 190-pound junior is making inroads toward earning a Division I college scholarship.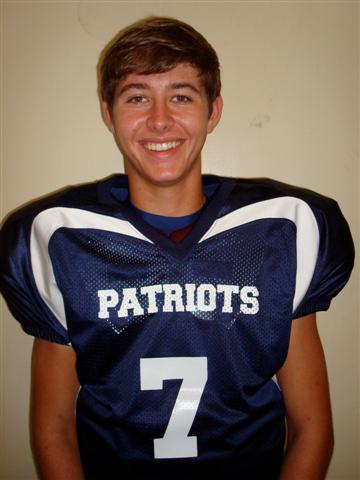 Photo by Steve Douglas
Stevie Douglas, Baton Rouge Christian
Douglas, who lives in Clinton, is beginning his sixth year as the starting quarterback for the Baton Rouge Christian Patriots. Last year – when the team was winless in nine games against its toughest-ever competition – Douglas completed 73-of-195 passes for 647 yards and four touchdowns in a run-oriented offense. He also threw 10 interceptions.
When he was in eighth and ninth grade, though, his team compiled a combined 14-3 record and twice won the championship in the Louisiana Christian Schools Athletic Association.
Still, it isn't easy when close to half of his team graduates every year – and almost none of the newcomers have played football before. Therefore, he not only has to work hard to improve his own talents, but by necessity also must fulfill a major coaching role.
"It's really hard," Douglas told MaxPreps. "My spring training is teaching those (new) guys from the ground up. Our coaches do a great job, but I also coach a lot. To a degree, it's burdensome, but football is an 11-man sport and just how it has to be. I could get frustrated or take advantage and try to be a leader."
This year's team has 20 players and a 10-game schedule. For the first time, three of the players are not homeschooled. It has no home field, so games are spread around the Baton Rouge area. Opponents include several teams from the Mississippi Private School Association. Crowds range from 150 to 500.
Douglas is optimistic about the 2009 campaign, which opens Friday against Wilkinson County Christian Academy, because he'll be protected by his best-ever offensive line, which averages 250 pounds. He also has a very talented sophomore running back, Ronald Brown (5-6, 175), whom he calls "our wonder man. On paper we look really good."
Video
Meet Stevie Douglas
Stevie's father, Steve Douglas, a former college player and high school coach, is the Patriots' head coach. Though each player must pay $250 to compete (includes insurance, etc.), Steve Douglas foots the bill for most of the team expenses. He also does all the scheduling and is the trainer because, as his son puts it, "He's the only one who knows how to tape ankles. We wouldn't be where we are without him."
The senior Douglas noted that homeschool football is "really starting to catch on here – there are 8,000 homeschooled students in Louisiana. There probably will be more in the future. I think it's going to continue to grow. It's probably not the best way to get publicity (for a scholarship), but it's more for teaching the Christian world view."
Steve Douglas, who put a nerf football in his son's hands five minutes after he was born, has done everything he can to direct him toward a college football career. That means sending him to every camp and combine that he can find to achieve maximum exposure.
The big one so far has been the Dave Schuman National Underclassmen Combine in Baton Rouge. He played so well that he earned sophomore MVP honors over many more experienced players.
"I hoped to go out, do a good job and get a good 40 time," he said of his combine expectations. "The last thing they announced was the combine MVP. I hadn't won the quarterback MVP and I wasn't paying any attention, because I knew it wasn't me."
Needless to say, he was shocked when he was named overall combine MVP in the sophomore class.
Courtesy of Steve Douglas
Douglas at National Underclassmen Combine.
Director Dave Schuman told MaxPreps, "I didn't know anything about him. I was actually surprised he was homeschooled. He was spectacular in individual and one-on-one passing drills. He has amazing footwork. He has a spectacular delivery and gets it out of his hands very quickly and on a rope.
"He looks very polished. He is one of the best quarterbacks I saw all year long in his grade and I saw 15,000 players this year. He's an unbelievable player and is a big-time Division I prospect."
In his situation, Douglas quickly concedes, "The best way to get publicity is to attend camps and combines and talk to the coach yourself."
Therefore, he's already attended camps at Mississippi, Vanderbilt, Southeastern Louisiana and LSU. He also has taken an unofficial visit to Wake Forest.
At the nearby LSU camp, offensive coordinator Gary Crowton "was very encouraging," Douglas recalled, even though he played with an injured ring finger on his passing hand.
His desire this year actually was to play for a regular school for the first time in his life, but it didn't happen. Nearby Clinton will not accept homeschooled athletes. He also approached Christian Life Academy, but state rules would force him to sit out his junior year because he does not live within the school's boundaries.
"I was really interested," Douglas said of his attempts to play for a school team. "It was frustrating, because a lot of coaches ask if I can compete at a higher level."
He has received correspondence from such colleges as UCLA, Hawaii, Memphis, Alabama, Mississippi and LSU, but the big question always lingers about his competition.
He carries a 3.65 GPA and needs just eight more credits over the next two years to earn his high school diploma. He'll also be taking some college courses before he graduates.
Meanwhile, the talented teenager will continue to work with his private coach, Don Griffin, who operates Don Griffin's 18:21 Skills Camp.
When he first met Douglas, one and one-half years ago, Griffin "immediately noticed his great gifting and potential, but he was raw. He needed a little tweaking. During instructions, he always said, 'yes, sir' and he could execute. He listens so well and would do it on the next repetition. He has a great ability to translate information. He also has the ability to self correct.
"Footwork was first. It's the most important thing for the quarterback – feet are everything. He's gained greater control of where to place his feet.
"A lot of kids are interested in throwing with a lot of velocity. He has bought into throwing under control and working on fundamentals. I've watched him mature. Now strength is coming and he throws the ball on a rope – bam – and it's right where it needs to be."
Most of all, Griffin loves his protégé's "coachability. Sometimes I have to run him off the field. He did a two-hour high school workout in unbelievable heat (103 degrees) and then asked to be in my drills. I just had to stop drilling (after about an hour) and say, 'Stevie, get off the field and get out of the heat!"
On another occasion the teenage workhorse drove 50 miles right after competing in a camp at Southeastern Louisiana to take part in Griffin's drills at 5 p.m.
Griffin estimates that he's forced Douglas to leave workouts "four or five times. A lot of that is work ethic, but if somebody wants him to stay late (and throw to them), he just wants to serve. We work very, very hard. The quarterback throws 300 balls.
"It's a joy to coach a kid like that. He has such an engaging way about him. He can tell his peers what to do and they receive it. Everybody loves Stevie. He's a natural leader."
Douglas returns the compliment. He says Griffin "really has helped me progress as a quarterback. He's helped me a ton."
Though Griffin concedes that Douglas "will have some catching up to do (as a collegian)," he predicts, "He'll be a solid Division I kid. He can go as high as he wants to. He's going to work and work and he'll rise to whatever level he plays. I think he can play with the big boys. He has no idea how good he is."
Home-school Football Hotbeds
Home-school high school football is not well known around the United States, but it is beginning to emerge from the shadows.
There actually is a small "hotbed" based in the Atlanta, Ga., metro area with eight teams making up the Glory For Christ Football League. Four of them are strictly home-school teams and four are private Christian schools which allow home-schooled players to participate.
The potential pool is large because an estimated 100,000 students are home-schooled in Georgia.
Director Hank St. Denis started the program seven years ago as the Georgia Football League. He told MaxPreps there are an estimated 400 players participating this fall. They represent the cities of Cartersville, Canton, Dalton, Buford, Conyers, Marietta (two teams) and Roopville.
The first year he had just one team, but the league ballooned to eight the very next year. He estimates that the league has produced "around 10" players who since have participated in college football at some level.
"The talent level has improved greatly," he said proudly. "A few come from high school programs to play with us."
St. Denis says his program is necessary after athletes out-grow the younger recreational leagues "because the Georgia high school association doesn't allow home-schooled players to play for public high schools. In high school, all kids want to play sports. Football is a huge draw in the state of Georgia. A lot of parents ended up putting their kids in public schools just to play football.
"We provide an (alternate) opportunity. We knew some kids wanted to go above and beyond (to earn college scholarships). We've seen kids make themselves into top-level athletes because the opportunity was there."
St. Denis believes that Maryland and Virginia have enough teams to form a combined eight-team league of their own.
Last year, St. Denis started the National Home-School Football Association Tournament, which was held at Panama City Beach, Fla. There were five high school and three JV-middle school entries.
At the high school level, teams came from Springfield, Mo., Richmond, Va.; Baton Rouge, La., Canton and Buford, Ga. Springfield won the title and St. Denis believes it boasted "four or five college prospects."
This year's national tourney will return to Panama City Beach, Fla., and will run from Nov. 18-22. St. Denis hopes to have entries from Michigan, Missouri, Georgia, Virginia and Louisiana. He also is inviting teams from Texas, Oklahoma, Ohio, Indiana and Wisconsin.
"I would dearly love to have the top 16 teams in the country," he said. "We would end up playing three or four games and staying for a week."
As for the future, he added, "I don't expect a great explosion, but I see it continuing to expand. A lot of private schools are starting up. They'll all have that need for sports."
Stevie Douglas from the CHEF Patriots (Baton Rouge) Article from MaxPreps.com about quarterback Stevie Douglas, who plays for the CHEF Patriots from Baton Rouge, Louisiana. The article also talks about the National Homeschool Football Tournament.
_______________________________________________________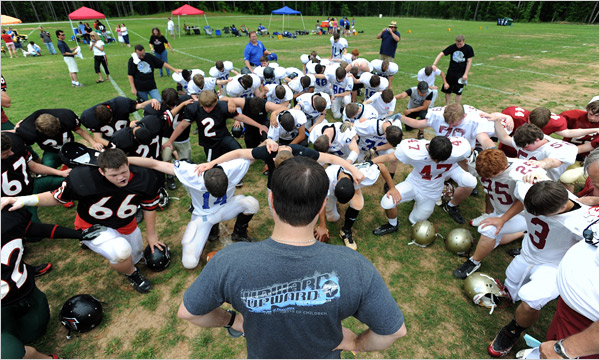 Home-Schooled Football League Thrives in Georgia
By MIKE TIERNEY
Published: June 25, 2009 in the New York Times
BALL GROUND, Ga. — By 2002, the sports-loving sons of Roger and Diana McDaniel had aged out of recreation league football. A school team was not an option.
They had no school. The boys were educated at home, cracking open textbooks — English, math, Bible — about a first-down-marker's length from their bedroom.
So the McDaniels huddled with two other families and formed a team of 18 players ages 12 to 18.
Blessings fell at their feet. A college abandoned football and provided affordable uniforms and gear. A private high school canceled its season, and the team, now called the North Georgia Falcons, assumed the schedule.
From that small seed has sprouted the Glory for Christ Football League, eight teams composed of home-schoolers and students at small Christian academies.
The ranks of the home-schooled grew to 1.5 million nationally through 2007, up from 850,000 in 1999, when the Department of Education started keeping the statistic.
Sports participation has bloomed accordingly, though football has lagged because it requires more players, coaches, equipment and facilities.
Georgia, with its abundance of football and religious fervor, has become a petri dish. Texas and this shiny buckle of the Bible Belt have the most registered football organizations with the Home School Sports Network, a national umbrella.
Spurring the growth in Georgia is a stipulation that only enrolled students can take part in sports at member schools of the Georgia High School Association. Early on, Diana McDaniel lobbied the state assembly and education board to open the stadiums and gyms to the home-schooled. The association stood its ground, maintaining that eligibility abuses and improper recruiting could flourish.
Twenty-four states allow the home-educated to join public- or private-school teams, according to the National Federation of State High School Associations, and the number is growing.
"No matter how many people said yes, the G.H.S.A. said no," Diana McDaniel said. "We thought it wasn't right. We were taxpayers."
The McDaniels and others have since warmed to Georgia's policy, content to operate independently and set their own bylaws. Glory for Christ has hung a "no girls allowed" sign that contrasts with the state association's policy.
Many of the league's goals seem out of step in a state where high school coaches draw six-figure salaries and where booster clubs raise money for expansive stadiums and fancy scoreboards.
"We take winning seriously," Hank St. Denis, the league director, said. "But we are more interested in the players as a whole."
The notion that home-schoolers wanted to play football was largely foreign until quarterback Tim Tebow helped the University of Florida win two national titles. Tebow, who competed on a high school team, demonstrated that a home-schooler could absorb a playbook as well as the Book of Deuteronomy.
The McDaniels said college coaches were unfamiliar with home-school teams and could be suspicious of grades given by parents. But a few Glory for Christ graduates have walked on to college teams, among them St. Denis's son Michael at Georgia Tech and the McDaniels' son Jordan at Tennessee-Chattanooga.
One rising junior is Ben Allison, a strapping 16-year-old with the Georgia Force team, who embraces the emphasis on sportsmanship while wondering how he would measure up in a traditional setting.
"If I were in public school, I might have a better chance of getting noticed," he acknowledged. Yet, he added, "I could not imagine doing anything different."
Ben is indebted to the Force. His parents lost their farmhouse and business, driving the family, which has 10 children, into debt. A teammate's parent paid Ben's $500 team fee — which included two overnight football camps — and another picked up expenses.
"They were aware of the struggles we were facing," Ben said. "They've been a great help."
Zach Walsh has benefited in another manner. Suspended by his public high school for drug possession, Zach was denied admittance to private institutions. Desperate to play football again, he was finally accepted by the Falcons.
"It's so fun to be in a Christian environment, with people that care about people," said Zach, who played last season while raising his grades to attain a college scholarship from the state. "They gave me a second chance."
But once a player becomes a Falcon, Roger McDaniel said, "if you mess up one time, you're gone."
Coaches, volunteers all, sign a code of conduct that forbids tobacco products and cursing. Players utter the rare profanity after an error or a rattling hit.
"This is a ministry opportunity around football," Force Coach Scott Dorsey said. "I've been given the chance to show these young men how to go about life Christ-centered and still be a manly man."
Owen Hargraves, a home-schooler who plays for the league's Christian Heritage Academy team, said: "We're almost more like a prayer group than a football team. I wouldn't respect coaches who swear every minute."
His coach, Mike Vaden, an outspoken Christian who worked two decades in public schools, instructs Owen to "block as if you're blocking for God."
If the motivational technique seems unorthodox, it is all the 6-foot-2, 245-pound Owen knows. Until three years ago, his physical activity was confined mostly to ballroom dancing.
"I didn't know the 50-yard line from the goal line," he said.
Home-educated players lack access to on-campus training facilities. Gabe and Michael Jefferson, brothers who play for the Falcons, arise at 4:45 most mornings and endure two hours at a fitness center before their mother, Sandy, rings the school bell.
Critics of home schooling say some youngsters are slower to develop social skills because they are isolated from peers. Problem solved, Gabe said, "if you get involved in sports."
And, Sandy Jefferson said, "a lot of socialization now is done on the computer anyway."
Her sons yearn to play in college, and she dismissed their limited exposure to recruiters.
"We have to make the most of the opportunity here," she said.
Franz Patterson, a Force assistant coach, experienced the Friday night lights of Texas prep football, excelled at a small college and tried out for the pros. Yet he had no qualms about taking an alternative approach with his sons Elisha and Ethan. High-level competition, he said, "is the only thing they're missing out on."
Patterson pulled them out of a recreation league, having grown weary of "stopping the coaches from fighting, much less the boys."
"In the schools, those coaches are getting paid to win," Patterson said. "Pressure is on them. They put pressure on the players, 'If you guys don't do well, I'm gone.'
"We do yell here. Hey, it's a physical game."
Given its grass-roots nature, home-school football may remain an off-the-grid activity even as it swells. Still, a national tournament took place last November in Panama City, Fla., and Roger McDaniel spent part of Memorial Day weekend there, drumming up support for a sequel.
Three Glory for Christ teams participated in a recent Saturday jamboree in Ball Ground, about 50 miles north of Atlanta. Afterward, the players kneeled and bowed their heads.
"What a great afternoon of fellowship," Roger McDaniel said, beginning an upbeat minisermon as the players' kin widened the human circle. "The Lord loves football, too."
After amens all around, the congregation sang "Praise God From Whom All Blessings Flow," then segued into a prayer.
Finally, benediction. Time to head out and scrub up for church on Sunday.
Homeschool Football League thrives in Georgia New York Times article about the Glory For Christ football league in Georgia which appeared June 25, 2009
________________________________________________________
Homeschool Football (in Michigan) by Prep Sports Editor Geoff Kimmerly
I did a story a few years ago on homeschool athletics after Butternut's Russell Monroe and Lansing's Kristi Veltkamp both were offered Division I basketball scholarships. At that point, there wasn't a football option for those teenagers, but it looks like that might soon change.
The following press release was submitted to our web site at the beginning of April. It doesn't affect the great majority of our readers, but is still a little interesting. The Miami Dolphins' Jason Taylor, for one, was homeschooled, although he was also allowed to play football at his local school.
Submitted by Lansing contact person Keith Hall
"A new football league is starting this fall across mid Michigan. The Christian Football League (CFL) of Michigan is not your typical football league.
"Founded by Boyd Meyers, a former MSU walk on lineman from 1986 – 89, with a vision to provide an opportunity for high school\-aged kids to play football. But the focus will not just be on football itself but to learn the many life lessons that come from playing the game. The league's primary goal is to teach character and have it modeled by the coaches, parents and players. CFL's motto is "Building Leaders and Servants Through Football."
"'There's a need and an opportunity to provide homeschooled, private and charter schooled kids with the opportunity to play football.' Boyd also sees an opportunity to make a positive impact on young people through this game. He's seen the many different styles of coaching in his career and wants to provide a positive, high intensity and high integrity environment.
"Parents and players have responded that this is an answer to their prayers. Because of the current laws, homeschoolers cannot play with local teams without enrolling in classes. And due to the cost, a lot of the smaller schools and charter schools don't offer a football program.
"The league has no affiliation with the Michigan High School Athletic Association and its teams cannot play MHSAA varsity teams. So the league will draw from teams from the Grand Rapids area, Flint area, the thumb area, metro Detroit and the Ann Arbor area. Lansing is also one of the proposed teams.
"Plans for the first year are to have a state championship and All-Star Game and also participate in a national championship tournament in Florida.
"It may start small, but hopes are to build the league to the level of some of the premier leagues in Georgia, Texas and Florida, where some of the players were recruited and are playing at the college level. The league will rely on much prayer and faith to get them there.
"For more information on the league, visit their website: www.cfl-mi.com
________________________________________________________________
The New Orleans Homeschool Saints are featured in this article from the nola.com
CLICK HERE TO READ THE ARTICLE
________________________________________________________________
Oklahoma News about Tim Tebow and Homeschool athletes
CLICK HERE TO READ "TIM TEBOW A SHINING EXAMPLE FOR ATHLETES THAT ARE HOMESCHOOLED"