Local abc tv station, Channel 13, coverage of the NHFA Tournament
Lighthouse Christian repeats as NHFA National Champions
The Chargers defeated the Christ Prep Patriots, 21-7, to win the 2014 NHFA Championship.
Sun Bowl Championship:
Central Virginia Disciples 38 Hickory Hawks 28
Laguna Beach Bowl Championship:
CHEF Patriots 34 Northside Lions 6
Beach Bowl Championship:
Georgia Force 14 Maryland Christians 0
PCB Bowl Championship:
HSAA Blue Angels 41 North Georgia 6
Homeschool Bowl Championship:
Central Maryland 25 Acadiana 14
THE NHFA EXPERIENCE
THIS WE HAVE LOTS OF VIDEO CLIPS FROM THE EXPERIENCE HERE AT NHFA INCLUDING INTERVIEWS WITH COACHES, PLAYERS, CHEERLEADERS AS WELL AS SOME OF THE GAMES. CHECK OUT THE VIDEOS AT THE WEBSITE BELOW AND SCROLL DOWN THE RIGHT SIDE OF THE SCREEN TO SEE ANY OF THE CLIPS THAT WERE TAKEN OVER THE PAST THREE DAYS HERE IN PANAMA CITY BEACH, FLORIDA.
CLICK HERE TO ACCESS THE VIDEO CLIPS
2014 NHFA Tournament
November 19-23, 2014
Panama City Beach, FL
Welcome to the home of the 2014 National Homeschool Football Association (NHFA) Tournament (11-Man Football). This year's tournament will be held from Wednesday, November 19th through Sunday, November 23rd in Panama City Beach, Florida.
The Awards Ceremony will be held at 8:00 Central Standard Time (9:00 Eastern) in the Auditorium (The Promise Land) at Laguna Beach Christian Resort in Panama City Beach. This meeting is for all players and coaches from each teams. The Auditorium will only hold the players, coaches, cheerleaders and a few others. You can view the closing ceremony online here or you can come to Martha's Kitchen/Dining Room where we will have a projector showing the Awards Ceremony.
Game schedule for Saturday:
(Home team listed first)
Pete Edwards Field
10:00 Northside Lions vs CHEF Patriots
1:00 HSAA vs North Georgia
4:00 Central Maryland vs Acadiana
Gavlak Stadium
10:00 Sun Bowl Championship: Central Virginia vs Hickory Hawks
1:00 Beach Bowl Championship: Georgia Force vs Maryland Christion
4:00 National Championshp: Lighthouse Christian vs Christ Prep
Game results for opening round of tournament:
Acadiana Commandos 38 vs Northside Lions 8
Georgia Force 32 CHEF Patriots 28
Central Maryland Crusaders 37 HSAA Blue Angels 27
Maryland Christian Saints 44 Hickory Hawks 38
Lighthouse Christian Chargers 20 Central Virginia 14
Christ Prep Patriots 40 North Georgia Falcons 6
Game Results for JV Games:
Lighthouse Christian JV 6 Central Maryland JV 0
Maryland Christian JV 20 Lighthouse Christian JV 0
Maryland Christian JV 18 Central Maryland JV 0
Teams competing in the 2014 NHFA Tournament:
Acadiana Commandos (Acadiana, LA)
Central Maryland (Sykesville, MD)
Central Virginia (Richmond, VA)
CHEF Patriots (Baton Rouge, LA)
Christ Prep (Kansas City, KS)
Georgia Force (Sugar Hill, GA)
Hickory Hawks (Hickory, NC)
HSAA Blue Angels (Dallas, TX)
Lighthouse Christian (Springfield, MO)
Maryland Christian (Bel Air, MD)
North Georgia (Canton, GA)
Northside Lions (Houston area, TX)
For info on the 8-Man Football Tournament click here or go to http://www.nationalfootballtournament.com/
__________________________________________________

Game results for Friday, Nov 7th  and Saturday, Nov 8th:
(Homeschool teams = HS)
Central Virginia (HS) 42 Maryland Christian 7 (HS)
Central Maryland (HS) 40 Frederick Eagles (HS) 0
CHEF Patriots (HS) 47 New Orleans Saints (HS) 20
Grace Christian 24 East Atlanta (HS) 14
Lighthouse Christian (HS) 48 HSAA Blue Angels (HS) 6
North Georgia (HS) 22 Georgia Force (HS) 21 (OT)
Pryor 60 NOAH Jaquars (HS) 7
SWCHA (HS) 10 Grand Valley Christian (HS) 7
____________________________________________________________________
To follow the homeschool teams (11-man football), click on "RECORDS, RANKINGS & GAME RESULTS TAB AT TOP OF THIS PAGE"
If you are interested in competing in the 2014 NHFA Tournament, please contact Hank St.Denis at 770-714-5775 or email hankstdenis@aol.com.
The 2014 NHFA Tournament (11-man football) will have Christian homeschool teams from around the country competing for a national championship. Teams play 11-man tackle football using National Federation of High Schools football rules that are used by High Schools throughout the US. We use Maxpreps.com and games played versus other homeschool teams for seeding the teams in the tournament.
_______________________________________________________________________
More information about the NHFA Tournament can be found in our brochure.
CLICK HERE FOR THE BROCHURE!
Awards Ceremony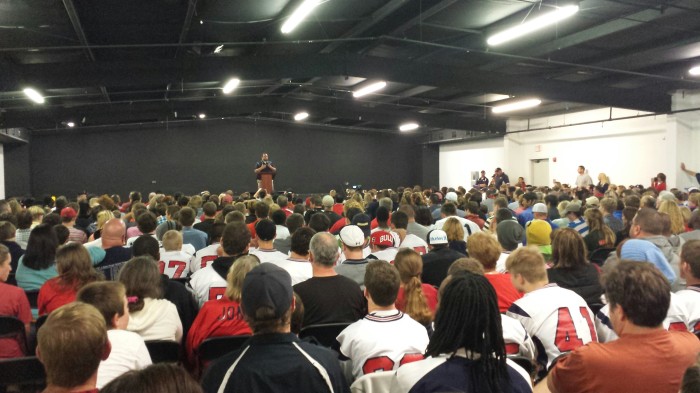 ________________________________________________
The Laguna Beach Christian Resort in Panama City Beach, Florida is one of the host facilities for the National Homeschool Football Tournament. All rooms/suites reservations are to be made through your football team (do not contact Laguna Beach for rooms/suites).
Above is the map of the Main Campus at Laguna Beach Christian Resort (aka LBCR)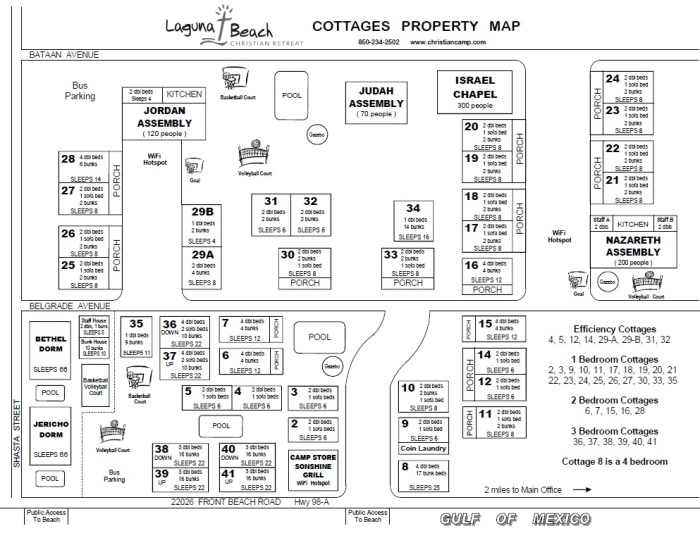 The Cottages of LBCR are located 2 miles west of the Main Campus
Includes Free WiFi!
Laguna Beach Christian Resort
Accommodations Include:
8 Acres Of Private Grounds
13 Swimming Pools
4 Heated Pools
Full Size Basketball Courts
Volleyball Courts On Grounds & Beach
12 Fully-equipped Commercial Kitchens
Beach front and beach access rooms
20 Meeting Rooms
Air-Conditioning
700 Seat Chapel/Auditorium on Grounds
Free Wi-Fi (internet access)
Large outdoor mall less than 5 minutes
Restaurants (major chains & local) nearby
__________________________________________________
Click here to view WJHG (PCB TV Station) talking about NHFA Tournament with Lighthouse Christian coach and players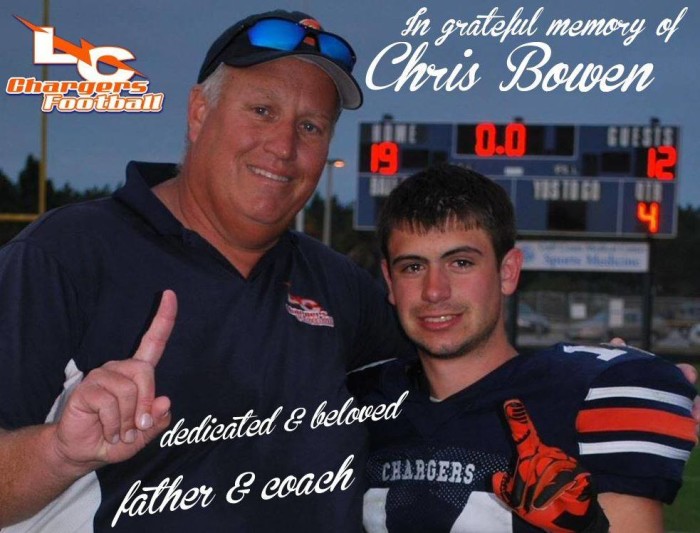 Coach Chris Bowen
On Friday, July 25, Coach Bowen, line coach for the Lighthouse Christian Chargers, passed away. Our thoughts and prayers go out to the Bowen family and the Chargers organizations.