Follow all the 2017 NHFA Teams throughout the season by clicking on the "RECORDS,RANKINGS & GAME RESULTS" tab on the left toolbar.
Game results for Friday, Oct 20th
Apache 34 OKC Patriots 14
Dasche Spartans 38 Northside Lions 15
Georgia Force 56 East Atlanta 0
HSAA Blue Angels 28 Garland Christian 26
NOAH Jags 32 Lighthouse Christian 28
North Georgia 26 SC Titans 8
North Wake at North Raleigh Christian
South Wake at Sandhill Titans
St.Benedict 42 Memphis Nighthawks 12
Texas Wind 57 Highlands 0
Game results for Sat, Oct 21st
Central Panthers 66 Steelville 0
CHEF Patriots 17 ACA Defenders 0
Christ Prep 48 Inman 8
Crimson Knights at SWCHA Saints (Sat)
FCA Bucks at Friends (Sat)
Northern VA 26 Grace Christian 14
NVA Kings 31 Hampton Generals 0
St.Johns 50 Maryland Christian 12
Tenn Silverback at Greensboro Panthers (Sat)
The 2017 NHFA Tournament is open to homeschool teams from around the country. The tournament will be held in Panama City Beach, Florida with teams arriving on Wednesday, November 15th and ending with the Awards Ceremony on Saturday evening, November 18th. We are fortunate to have the top homeschool teams in the country compete for a National Championship on the field and we also have several "BOWL GAMES" for those teams that don't make it to the National Championship game.
Click here to view the 2017 NHFA Team Registration Form
Click here to view the 2017 NHFA Tournament Brochure
2017 PLAYER ELIGIBILITY FORM: CLICK HERE TO VIEW, COPY, FILL-IN AND EMAIL PLAYER ELIGIBILITY FORM
The Player Eligibility Form is required of each player. Please have parent fill in the form and email form to info@homeschool-football.com asap or no later than September 15th, 2017.
We expect to book all rooms at Laguna Beach Christian Resort so you will want to reserve your room(s) early. We also have hotels rooms and condos reserved, but there is an additional charge for them.
Also, you will want the following information, so

click here to see WHAT TO BRING

If you are interested in competing in the 2017 NHFA Tournament, please contact Hank St.Denis at 770-714-5775 or email hankstdenis@aol.com.

__________________________________________________

2017 NHFA Tournament Schedule

Wednesday, Nov 15th
9:00 pm (central time): Opening Meeting at The Promise Land Auditorium (players and coaches only due to number of attendees)
Meeting will last less than 1 hour.

Thursday, Nov 16th
7:30 to 9:00 Hot breakfast in Martha's Kitchen at main campus and Nazareth Kitchen at the Cottages

Friday, Nov 17th
7:30 to 9:00 Hot breakfast in Martha's Kitchen at main campus and Nazareth Kitchen at the Cottages

Saturday, Nov 18th
7:30 to 9:00 Hot breakfast in Martha's Kitchen at main campus and Nazareth Kitchen at the Cottages

AWARDS CEREMONY TIME AND PLACE TO BE ANNOUNCED

Frank Brown Park is located at 16200 Panama City Beach Parkway (approx 10 minutes from LBCR)
Pete Edwards Field is located at 7300 McElvey Road (approx 20 minutes from LBCR)

To view map of Laguna Beach Christian Resort Main Campus, click or copy and paste: http://christiancamp.com/maps/main.pdf

To view map of the Cottages, click or copy and paste: http://christiancamp.com/accommodations/cottages/

_______________________________________________________________________
Coach Roger McDanield

Homeschool football has lost one of it's founding members as Roger McDaniel, in February 2017, went to be with the Lord. The head coach for the North Georgia Falcons since it's beginning, Roger's passion and love help build homeschool football and in particular, the Falcons, into a recognized brand both in Georgia and throughout the country. As I reflect back on all the times I spent with Roger, he was the definition of selfless to me. He gave so much of his time, talents, effort and money to help people (players and parents) not only with the Falcons but with other teams. He always had time to talk, give encouragement, advice and even a little discipline now and then when it called for it. Roger was a true servant of the Lord.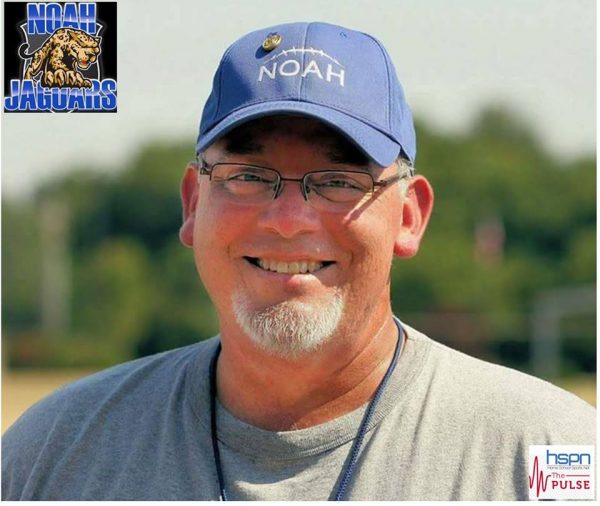 We are saddened to hear about the passing of the former Head Coach Steve Gastulum of the NOAH Jaquars. In a statement from Jerome Davis, he said "Gastulem, 57, was the second Varsity Head Coach in program history, taking over for Joe Blankenship after the 2011 season. A 1982 graduate & award winning Lineman of Baker University, Coach G had a distinguished coaching career that included winning multiple NHFCS National & Regional Championships as both Head Coach and Assistant Coach.
Last fall, Coach G was diagnosed with Stage 4 cancer and on the evening of July 24th, after putting up a very hard fight… Steve passed from this world and went to be with his Lord & Savior. Gastulem was a father of eight and had just celebrated 29 years of marriage to his beloved wife Kari this month.

______________________________________________________________

The Laguna Beach Christian Resort in Panama City Beach, Florida is one of the host facilities for the National Homeschool Football Tournament. All room reservations are to be made through your football team (do not contact Laguna Beach for rooms/suites).
Above is the map of the Main Campus at Laguna Beach Christian Resort (aka LBCR)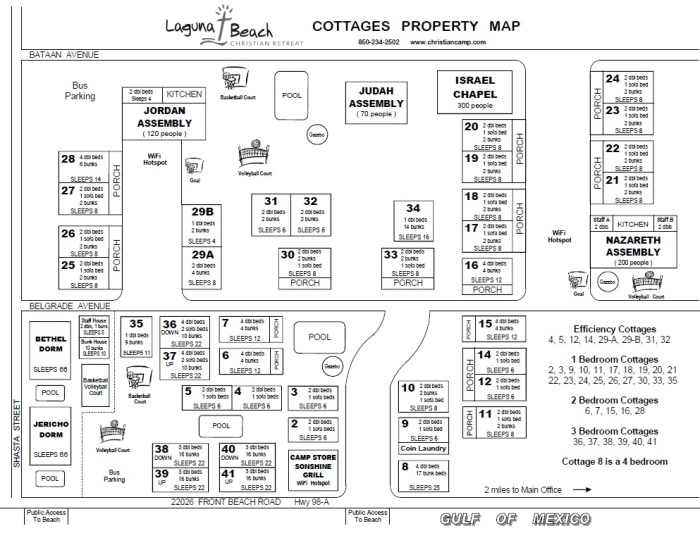 The Cottages of LBCR are located 2 miles west of the Main Campus

Includes Free WiFi!

Laguna Beach Christian Resort

Accommodations Include:

8 Acres Of Private Grounds
13 Swimming Pools
4 Heated Pools
Full Size Basketball Courts
Volleyball Courts On Grounds & Beach
12 Fully-equipped Commercial Kitchens
Beach front and beach access rooms
20 Meeting Rooms
Air-Conditioning
700 Seat Chapel/Auditorium on Grounds
Free Wi-Fi (internet access)
Large outdoor mall less than 5 minutes
Restaurants (major chains & local) nearby

_________________________________________________________

CLICK HERE TO VIEW PICTURES FROM THE 2016 TOURNAMENT

CLICK HERE TO VIEW THE NATIONAL CHAMPIONSHIP GAME

Saturday Game results:

NATIONAL CHAMPIONSHIP GAME: CENTRAL VIRGINIA DISCIPLES 52 GEORGIA FORCE 35

After an exciting first half that ended with the score 22-21 in favor of Central Virginia, the Disciples pulled away in the 3rd quarter by intercepting two Force passes (both after the Force had driven into the red zone) and returning one for a 100+ yard touchdown and the other inside the 20 yard line (80+ yards).

Beach Bowl: Crimson Knights 26 Lighthouse Christian 20 (OT)

Homeschool Bowl: Christ Prep 24 Maryland Christian 14 CLICK HERE TO VIEW THE GAME FILM

Homeschool Bowl Consolation Game: Central Maryland 31 CHEF Patriots 13

Sun Bowl Championship Game: DasCHE Spartans 28 New Orleans 0
Sun Bowl Consolation Game: Texas Wind 10 Memphis Nighthawks 6

PCB Bowl Consolation Game: ACA Defenders Northern Virginia
PCB Bowl Championship Game: Northside Lions 12 HSAA 7

NHFA Game results from Thursday, Nov 17th

Championship Bracket
Central Virginia 48 Lighthouse Christian 38
Georgia Fore 44 Crimson Knights 12

Homeschool Bowl Bracket
Maryland Christian Saints 20 CHEF Patriots 6
Christ Prep 38 Central Maryland 13

PCB Bowl Bracket
HSAA Blue Angels 40 ACA Defenders 12
Northside 34 Northern Virginia 0

Sun Bowl Bracket
DasCHE Spartans 28 Memphis Nighthawks 0
New Orleans 28 Texas Wind 22

__________________________________

Awards Ceremony at NHFA National Tournament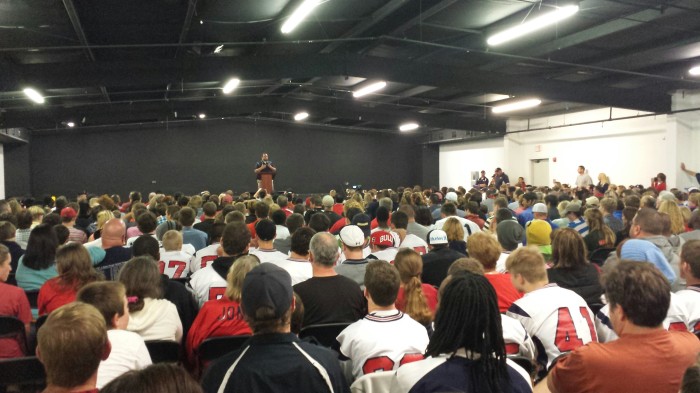 Click here to view the 2014 Awards Ceremony



__________________________________________________
CLICK HERE TO SEE PICTURES FROM SOME OF THE PREVIOUS NHFA TOURNAMENTS
__________________________________________________
CLICK HERE TO SEE THE NHSA 8-MAN FOOTBALL NATIONAL CHAMPIONSHIP WEBSITE