Welcome to the home of the 2015 National Homeschool Football Association (NHFA) Tournament (11-Man Football). The 2015 tournament will be held from Wednesday, November 18th through Sunday, November 22nd in Panama City Beach, Florida.
Game schedule/results for Friday, August 28th & Saturday, August 29th:
Barat Academy 36 Central Homeschool 0
Carolina Crusaders 36 Asheville Saints 0
Central Maryland 57 Northern Va Centurions 0
Central Virginia 28 Pamlico County 20
CHEF Patriots 20 Glenbrook 18
Christ Prep 40 Windsor 20
Columbus Crusaders 10 Noblesville Lions 0
Crimson Knights 24 Elkhart Eagles 0
East Atlanta 32 Coastal Hurricanes 14
Frederick Co Eagles at St.John's
Georgia Force 41 Dominion Christian 8
Hickory Hawks 52 Carolina Wildcats 18
Kestrel Heights 50 South Wake 6
Kipp College Prep 30 Northern Va Kings 16
Lighthouse Christian 48 Knob Noster 7
Md School for Deaf 48 FCA Bucks 6
New Orleans Saints at Centerville
North Georgia 50 Greenville Hurricanes 26
Rosehill Christian 34 Northside Lions 7
Severn 60 Maryland Christian 7
SWCHA Saints 31 Horicon 6
Texas Wind 63 St.Stephens 0
Tri-State Christian 42 Grand Valley 0
Tx School for Deaf 48 DaCHE Spartans 6
Village 28 Acadiana Commandos 6
Vincent 36 Crossroads Christian 8
Worthington Christian 41 Landmark Christian 0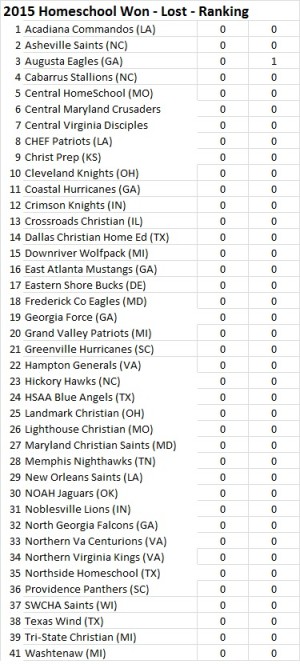 Scores from Friday, August 21st
Anderson Cavs 35 East Atlanta 6
Bethesda Academy 45 Coastal Hurricanes 0
Bowling Green 41 New Orleans Saints 0
Cabarrus Stallions 38 Asheville Saints 15
Carolina Crusaders 24 Tennessee Silverbacks 6
Central Homeschool 49 Lighthouse Prep 0
CHEF Patriots 32 Heidelberg Academy 26
Crimson Knights 54 Tri-State Christian 14
Georgia Force 45 Augusta Eagles 7
Greenville Hurricanes 35 Oakbrook Prep 6
Legacy Christian 50 Acadiana Commandos 7
North Georgia 24 Holy Spirit 19
Spartenburg Christian 45 Providence Panthers 0
SWCHA Saints 34 Pulaski 0
Awards Ceremony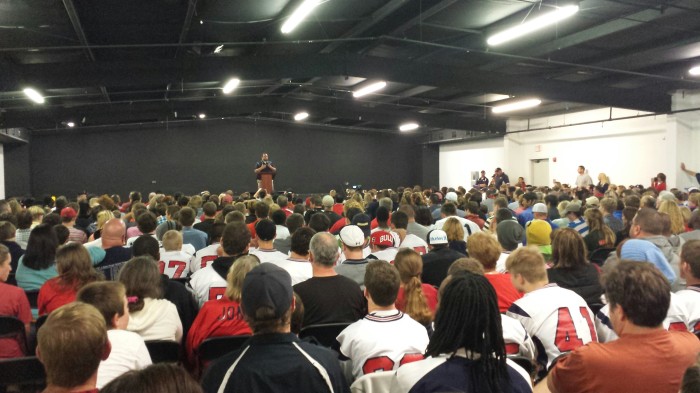 ____________________________________________________________________
To follow the homeschool teams (11-man football), click on "RECORDS, RANKINGS & GAME RESULTS TAB AT TOP OF THIS PAGE"
If you are interested in competing in the 2015 NHFA Tournament, please contact Hank St.Denis at 770-714-5775 or email hankstdenis@aol.com.
The 2015 NHFA Tournament (11-man football) will have Christian homeschool teams from around the country competing for a national championship. Teams play 11-man tackle football using National Federation of High Schools football rules that are used by High Schools throughout the US. We use Maxpreps.com and games played versus other homeschool teams for seeding the teams in the tournament.
_______________________________________________________________________
More information about the NHFA Tournament can be found in our brochure.
Click here for the 2015 NHFA Tournament Brochure
Click here to view the 2015 NHFA Team Registration Form
Click here to see WHAT TO BRING
________________________________________________
The Laguna Beach Christian Resort in Panama City Beach, Florida is one of the host facilities for the National Homeschool Football Tournament. All rooms/suites reservations are to be made through your football team (do not contact Laguna Beach for rooms/suites).
Above is the map of the Main Campus at Laguna Beach Christian Resort (aka LBCR)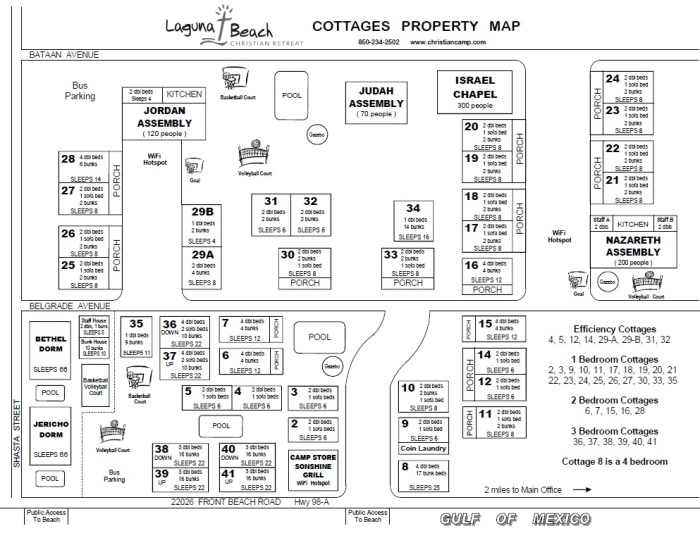 The Cottages of LBCR are located 2 miles west of the Main Campus
Includes Free WiFi!
Laguna Beach Christian Resort
Accommodations Include:
8 Acres Of Private Grounds
13 Swimming Pools
4 Heated Pools
Full Size Basketball Courts
Volleyball Courts On Grounds & Beach
12 Fully-equipped Commercial Kitchens
Beach front and beach access rooms
20 Meeting Rooms
Air-Conditioning
700 Seat Chapel/Auditorium on Grounds
Free Wi-Fi (internet access)
Large outdoor mall less than 5 minutes
Restaurants (major chains & local) nearby
__________________________________________________