The 2016 NHFA Tournament is open to homeschool teams from around the country. The tournament will be held in Panama City Beach, Florida with teams arriving on Wednesday, November 16th and ending with the Awards Ceremony on Saturday evening, November 19th. We are fortunate to have the top homeschool teams in the country compete for a National Championship on the field and we also have several "BOWL GAMES" for those teams that don't make it to the National Championship game.
Registration is now open and while we have lots of space, there is a limit on the number of teams so if you are interested in competing, please click on the "Team Registration Form" below, fill in the information required and send it in as soon as possible to reserve your spot.
Click here to view the 2016 NHFA Team Registration Form
For more information and to view/print out the the tournament brochure, click here for the 2016 NHFA Tournament Brochure
Also, you will want the following information, so
click here to see WHAT TO BRING
You can also get more information by calling 770-714-5775 or email to hankstdenis@aol.com
_____________________________________________________________________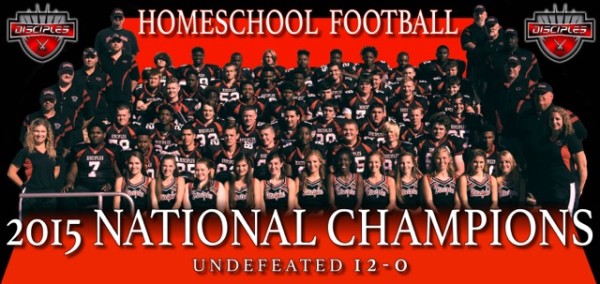 Central Virginia Disciples defeated the Lighthouse Christian Chargers 22-20 to win the 2015 NHFA National Championship
Down 20-6 in the 4th quarter, the Disciples were able to score twice and tack on the 2-point conversions to go up 22-20 with just over 5 minutes to go in the game. Lighthouse threatened but was stopped short and the Central Virginian Disciples were able to run out the clock to defeat the Chargers and keep them from winning their 3rd straight championship. Central Virginia was the last team to beat the Chargers in the championship.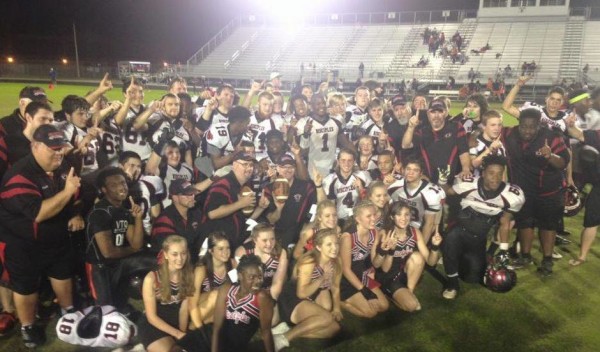 Disciples finish season unbeaten and are the 2015 NHFA National Champions


NHFA Game Results for Saturday, Nov 21st (Central time)

Homeschool Bowl Championship
Final: SWCHA Saints 28 Georgia Force 18

Click here to view Homeschool Bowl: SWCHA vs Georgia Force

_______________________________________________


Sun Bowl Championship
Final: Maryland Christian 14 NOAH Jaquars 7

Beach Bowl Championship Game
Final: Central Maryland Crusaders 20 North Georgia Falcons 14

_______________________________________________


_______________________________________________

PCB Bowl Championship Game
Final: Acadiana Commandos 32 DasCHE Spartans 22

Bowl Consolation Games:
Sun: Crimson Knights 36 CHEF Patriots 24
Beach: Christ Prep 21 Northside Lions 14
PCB: HSAA 44 Northern Virginia 0

_____________________________________

NHFA Game Results

Thursday, Nov 19th

PCB Bowl Bracket at Frank Brown Park Field #2 (16200 PCB Pkwy)
Gamr #1 DasCHE Spartans 44 Northern Virginia 0
Game #2 Acadiana Commandos 30 HSAA Blue Angels 16

Beach Bowl Bracket at Frank Brown Park Field #1
Game #3 North Georgia 44 Northside Lions 0
Game #4 Central Maryland 26 Christ Prep 0
Click here to view the replay of this game

Sun Bow Bracket at Pete Edwards Field (7300 McElvey Rd, PCB)
Game #5 Maryland Christian 33 CHEF Patriots 7
Game #6 NOAH Jaquars 28 Crimson Knights 20 (OT)

Championship Bracket/Homeschool Bowl Bracket at Pete Edwards Field
Game #7 Lighthouse Christian 42 Georgia Force 36 (OT)
Game #8 Central Virginia 32 SWCHA Saints 7


The Northern Virginia Centurions from the Manassas area came to Panama City Beach to participate in the NHFA Tournament. The first year homeschool football team, with a roster full of young players, knew they would have a difficult season of football but their positive attitude towards playing is the example that we hope all homeschool teams will display. Below are two pictures of the Centurions.

The following teams will be competing in this year's tournament:
Acadiana Commandos (Lafayette, LA)
Central Maryland Crusaders (Eldersburg, MD)
Central Virginia Disciples (Richmond, VA)
CHEF Patriots (Baton Rouge, LA)
Christ Prep Patriots (Kansas City, KS)
Crimson Knights (Indianapolis, IN)
Dallas Christian Spartans (Dallas, TX)
Georgia Force (Sugar Hill, GA)
HSAA Blue Angels (Dallas, TX)
Lighthouse Christian Chargers (Springfield, MO)
Maryland Christian Saints (Bel Air, MD)
NOAH Jaquars (Tulsa, OK)
North Georgia Falcons (Freehome, GA)
Northern Virginia Centurions (Manassas, VA)
Northside Lions (Conroe, TX)
SWCHA Saints (Milwaukee, WI)

__________________________________

Awards Ceremony at NHFA National Tournament


Click here to view the 2014 Awards Ceremony




If you are interested in competing in the 2016 NHFA Tournament, please contact Hank St.Denis at 770-714-5775 or email hankstdenis@aol.com.

The 2016 NHFA Tournament (11-man football) will have the top ranked Christian homeschool teams from around the country competing for a national championship. Teams play 11-man tackle football using National Federation of High Schools football rules that are used by High Schools throughout the US. We use Maxpreps.com, also games played versus other homeschool teams and input from coaches for seeding the teams in the tournament.

_______________________________________________________________________

________________________________________________

The Laguna Beach Christian Resort in Panama City Beach, Florida is one of the host facilities for the National Homeschool Football Tournament. All rooms/suites reservations are to be made through your football team (do not contact Laguna Beach for rooms/suites).

Above is the map of the Main Campus at Laguna Beach Christian Resort (aka LBCR)


The Cottages of LBCR are located 2 miles west of the Main Campus

Includes Free WiFi!

Laguna Beach Christian Resort

Accommodations Include:

8 Acres Of Private Grounds
13 Swimming Pools
4 Heated Pools
Full Size Basketball Courts
Volleyball Courts On Grounds & Beach
12 Fully-equipped Commercial Kitchens
Beach front and beach access rooms
20 Meeting Rooms
Air-Conditioning
700 Seat Chapel/Auditorium on Grounds
Free Wi-Fi (internet access)
Large outdoor mall less than 5 minutes
Restaurants (major chains & local) nearby

__________________________________________________

CLICK HERE TO SEE PICTURES FROM SOME OF THE PREVIOUS NHFA TOURNAMENTS

__________________________________________________

CLICK HERE TO SEE THE NHSA 8-MAN FOOTBALL NATIONAL CHAMPIONSHIP WEBSITE